Please join us February 28, 2014 from 4:30 to 6:30 PM at Mexico Cantina y Cocina in Seattle to celebrate the release of the third issue of HUIZACHE, the magazine of Latino literature, with a reading and reception featuring contributors Domingo Martinez, Tim Seibles, and Laurie Ann Guerrero. The event, held in conjunction with this year's AWP convention, is free and open to the public.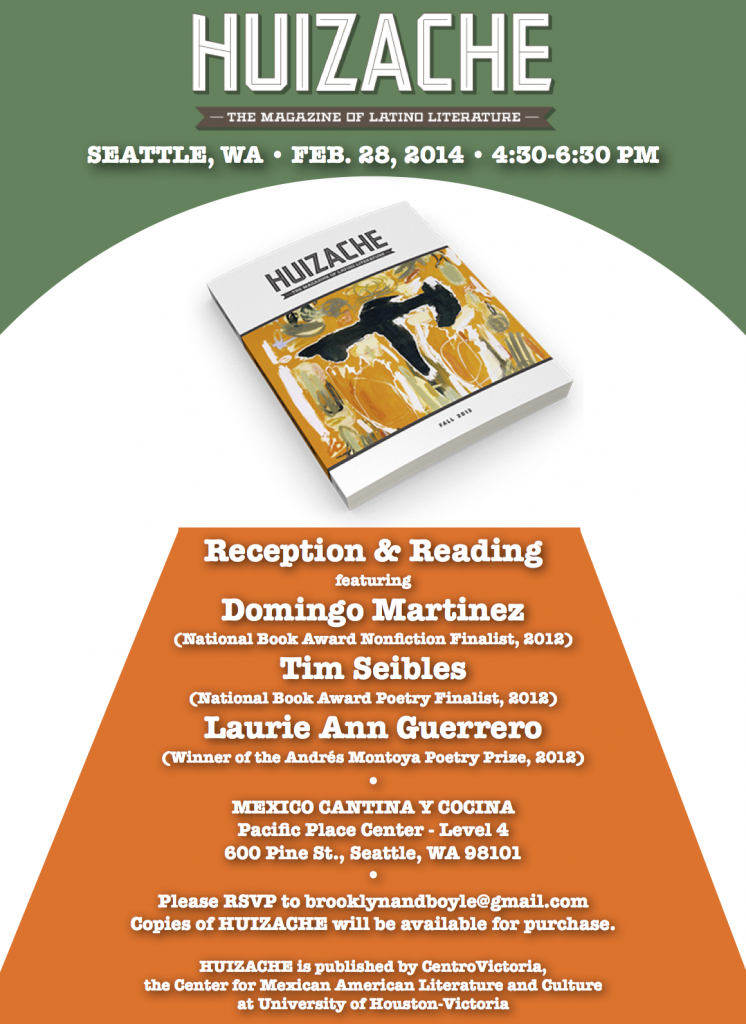 About our readers:
DOMINGO MARTINEZ's work has appeared in Epiphany, The New Republic, This American Life, Huizache, All Things Considered, and Saveur Magazine. He is a regular contributor to NPR's This American Life and has appeared on NPR's All Things Considered and The Diane Rehm Show. Martinez was the recipient of the Bernard De Voto Fellowship for Non-Fiction at Bread Loaf Writer's Colony in 2013, and is a fundraiser and spokesperson for 826 Seattle, the literacy project founded by Dave Eggers. His memoir, The Boy Kings of Texas, was a finalist for the 2012 National Book Award, a 2013 Pushcart Prize nominee, a Gold Medal Winner for the Independent Publisher Book Awards, and a New York Times bestseller; it will soon be an HBO series, with Salma Hayek and Jerry Weintraub as executive producers. He lives in Seattle and is currently working on his next book, My Heart is a Drunken Compass (forthcoming from Lyons Press in November 2014).
TIM SEIBLES is the author of numerous collections of poetry, including Body Moves (1988), Hurdy-Gurdy (1992), Hammerlock (1999), Buffalo Head Solos (2004), and Fast Animal (2012), which was a 2012 National Book Award finalist. His work has also been featured in the anthologies In Search of Color Everywhere: A Collection of African American Poetry (1994, edited by E. Ethelbert Miller and Terrance Cummings), Black Nature: Four Centuries of African American Nature Poetry (2009, edited by Camille Dungy), and Best American Poetry (2010, edited by Amy Gerstler). Seibles' honors include fellowships from the National Endowment for the Arts and the Provincetown Fine Arts Work Center, as well as an Open Voice Award from the National Writers Voice Project. Born in Philadelphia in 1955, he now lives in Norfolk, Virginia, where is a member of the English Department and MFA in Writing faculty of Old Dominion University, as well as a teaching board member of the Muse Writers Workshop. He teaches part time for the University of Southern Maine's Stonecoast MFA in Writing Program, and is a teacher at Cave Canem.
LAURIE ANN GUERRERO's first full-length collection, A Tongue in the Mouth of the Dying (University of Notre Dame Press 2013), was the winner of the 2012 Andrés Montoya Poetry Prize. Her poetry and critical work have appeared in Huizache, Texas Monthly, Bellevue Review, Women's Studies Quarterly, Global City Review, Texas Observer, Chicana/Latina Studies, Feminist Studies and others. A CantoMundo fellow and member of the Macondo Writers' Workshop, she was named one of ten top emerging poets in 2013 by Poets & Writers Magazine. She has served on the faculty at Palo Alto College, University of the Incarnate Word, University of Texas-El Paso, and Gemini Ink, a community-centered literary arts organization in San Antonio. She holds a B.A. in English Language and Literature from Smith College, where she received the Academy of American Poets Prize, and an MFA in poetry from Drew University. Born and raised in the Southside of San Antonio, she is a visiting writer at San Antonio's Our Lady of the Lake University.
Copies of all three issues of HUIZACHE will be available at the event, along with $2 tacos and $3 draft beer (courtesy of Mexico Cantina y Cocina).
Mexico Cantina y Cocina is locatred at 600 Pine St. #402 Seattle, WA 98101