Huizache #6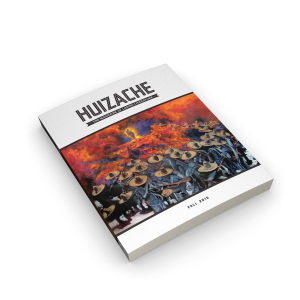 HUIZACHE 6 features the spectacular cover art by legendary Chicano artist John Valadez and offers prose from El Paso's Christine Granados, Denver's Sheryl Luna, Oakland's Aida Salazar; from award-winning playwright Octavio Solis, filmmaker/author Jesús Salvador Treviño, and New Orleans's Bryan Washington. Poets in h6 include California's Lisa Alvarez, Texas's Abigail Carl-Klassen, Mexico's Christina Rivera Garza, New York's Paco Marquez, Michigan's Rachel Nelson and New Mexico's Joaquin Zihuatanejo. A selection of linocuts by LA printmaker Daniel González is also within the magazine's pages.
Huizache #5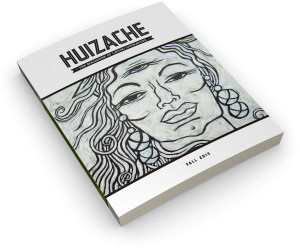 The fifth issue of Huizache is as stunning as its predecessors: a '60s throwback cover by Los Angeles artist Diane Gamboa, full-color plates by Caribbean painter Claude Fiddler, poetry by one of the East Coast's most beloved poets, Cornelius Eady, fiction by the still-rising Chicano star Manuel Muñoz, an essay by a Chicana already in the pantheon, Denise Chávez, a mythic origin memoir by a homeless Colombiana in New York City, María López. Huizache offers work from the edges, from the corners, and from our side of America: El Paso, San Antonio, Chicago, Tucson, Austin, San Francisco, Mexicali, Fullerton, San Diego, Fresno, Los Angeles. Alongside work by the well-known devorah major, Glenn Taylor, Pat LittleDog, and ir'ene lara silva, h5 proudly welcomes new voices such as Fernando Flores, Vanessa Diaz, and Javier Zamora. Huizache continues to thrive in the Latino West, loudly proclaiming the beauty of its bloom. In this era when the Mexican character and the Mexican heritage of this magazine are not just dismissed or ignored but attacked, as though in a xenophobe's fantasy cartoon, it continues to expand artistic boundaries, presenting dynamic work that could otherwise go unseen.
Huizache #4
CentroVictoria's fourth issue of Huizache is its thickest, and arguably its fullest and best so far. As in the past three issues, some of the most nationally distinguished poets and writers are contributors: Rubén Martínez, Sandra Cisneros, Terrance Hayes, Rolando Hinojosa, Carmen Giménez Smith, and Dana Johnson. And then there are the soon-to-be well-known: Sheryl Luna, Yona Harvey, Maceo Montoya, Rio Cortez, Steven Ramirez, Marcelo Hernandez Castillo, and Laurie Ann Guerrero. And they are only a few! As always, we are especially thrilled to give you our much anticipated cover art by infamous cartoonist—and soon-to-be yet more notorious when his animated TV show "Bordertown" appears this coming spring on the Fox network—Lalo Alcaraz. How can we not love that Huizache has its own punk Frida?? A magazine rooted and produced in the Latino West, Huizache represents the finest and most beautiful of those who are not born and bred on the right land, in the right cities, who are too often and too dismissively ignored. Huizache proudly highlights those whose homes too many fly over or drive past quickly and distractedly, missing, as in the desert, the stunning complexity in the brown soil.
Huizache #3
CentroVictoria's third issue of Huizache follows in the path of those previous with yet another display of original literature and unique voices from this side of America. We are proud to present the work of such honored writers as Tim Seibles, Domingo Martinez, Cristina García, Juan Felipe Herrera, and Héctor Tobar, while highlighting the early work of David Campos, Tameka Cage Conley, Casandra Lopez, and Joshunda Sanders--and many others. With our stunning new design both inside and out, a cover from the art of LA's fabulous and famed Gronk, our #3 issue is poetry and prose not just from the Latino world, though much is, not just from the West, though much is, but from a new American country.
Huizache #2
CentroVictoria's second issue of Huizache follows the lead of its inaugural edition, featuring the leading voices in Latino literature—Lorna Dee Cervantes, Gary Soto, Luis J. Rodriguez, Michele Serros, Rigoberto González—as well names from the Southwest and nation—Naomi Shihab Nye, Beverly Lowry, Achy Obejas, and Carrie Fountain. With this issue, we add the just beginning, younger voices of Matt Mendez, Beverly Parayno, Melisa Garcia, Lupe Mendez, Laurie Ann Guerrero, and many more from across the nation and continent. An added feature is a tribute to the anti-book banning in Arizona, Librotraficante Movement, with prose by its leader, Tony Diaz, and poems in support by Margaret Randall and Levi Romero. Finally, there is the fine art, which Huizache intends to keep as a tradition. The cover is by Patssi Valdez, arguably the best artist working in Los Angeles today, and the gorgeous panoramic photography of Houston's acclaimed Chuy Benitez.
Huizache #1
CentroVictoria is excited to announce its new literary magazine, Huizache, featuring poetry, fiction, and nonfiction. The magazine's title is inspired by the huizache tree, a Texas acacia as thorny and tenacious as it is both invisible and ubiquitous, unwanted by farmers. Like its namesake, the magazine will promote fierce beauty that has been ignored. The voices in this magazine are motivated, not silenced, by harsh, unwelcoming conditions.

The debut issue includes prose and poetry from Sherman Alexie, Hettie Jones, Maria Venegas, Willie Perdomo, Aracelis Girmay, Tim Z. Hernandez, Sheryl Luna, Edward C. Corral, Alex Espinoza, Diana Garcia, Estella Gonzalez, Juan Felipe Herrera, José Montoya, Gary Soto, Sandra Cisneros, Sasha Pimentel-Chacón, Tonantzín Canestaro-García, David Garza, Emmy Pérez, Benjamin Alire Saenz, Tim Seibles, and Rene Perez, with original art from the renowned César A. Martínez.